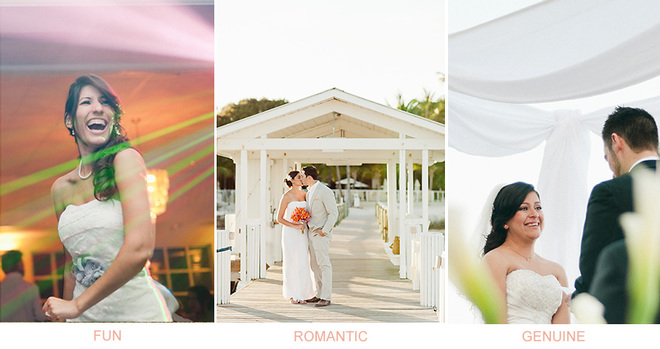 How would you describe your photography style?
The best way to describe my work philosophy is to start off by telling you that I love stories. Two people crazy in love, sharing their commitment in front of their loved ones, starting a new adventure together. I strive to photograph the moments of that story. Of when your mom starts tearing up as she laces up your gown, the way you dad hugs you when he realizes he's giving away his little girl forever. That look that you'll give your guy as you see him as not your fiance, but your mother-lovin' husband! I'll take amazingly cute photos of your shoes and flowers, and that pendant your grandma gave you, but the moments, the big ones and the little ones, is what makes me giddy inside. Wedding photography should be fun, romantic and genuine.
What types of weddings do you enjoy the most?
I believe a wedding should be a celebration. Lots of dancing, and singing and hugging and drinking and happy tears. My favorite weddings have always been with couples who are not only fun and laid-back, but who also understand the importance of photography. They allow me to photograph their wedding day as beautifully as they pictured it from the moment he put a ring on it. They fully trust my vision and skill to give them some fantastic images.
I hate being in front of the camera. I get all Chandler-Bing like. Will I still look good?
I feel your pain. I'm not a fan of having my photo taken either. "Am I smiling weird? What do I do with my hands?" We may be really, really ridiculously good-looking, but we're no Zoolanders. Here's the good news: My photography style allows people to be themselves. We'll joke and talk and it will feel like you two are on an awesome date with a camera-strapped third wheel. And hey! If you need some extra help relaxing, I'm not opposed to you having a pre-photo shoot drink :)
How do I book you for my wedding day?
A non-refundable 30% retainer with a signed contract will guarantee that I reserve your wedding day. The remaining amount is due three weeks before the wedding. Head over to the contact link and let's get this show on the road!
How much time do we need for portraits during the wedding?
I think portrait time is one of the most important during the wedding day. It's just you and your boo, looking awesome and basking in the glow of your love. I ask for at least 30 minutes with the bride and groom, more if the portrait locations require some travel. The more time, the better! Trust me, you don't want to regret getting an epic shot to hang in your living room just because we were short on time. As for your bridal party, a half hour usually works out fine and you can budget another half hour for your family formals. I'm very open to helping you create a wedding day schedule, so please don't hesitate to ask if you're in need!
How long before we can see our images?
I am an editing machine. I'm not gonna lie, I'm so very proud of my turn-around time. I post a teaser on my facebook page the day after, email you a link to your gallery within two weeks after the wedding day and your DVD will arrive at your doorstep by your one month-versary so you can celebrate it by reliving the day all over again.
What are Lifestyle shoots?
A lifestyle shoot is, in the simplest form, a photography session about were you are in life. Wether you're celebrating your sweet 16, you are newly engaged, or you're having a baby, these are all reasons to celebrate. No cheesy matching jeans-and-white-shirt-on-beach stiff photos here! I tag along with you or your loved ones and photograph who you are. We can shoot at the zoo, a park or even your home. You and your family are unique with all your quirks and craziness. Let's celebrate it!
What can I do with the disc of images?
Along with your disc, you receive printing rights. You can print as many copies as your heart desires. You can also post them on facebook, email them to friends and family and make copies of it just in case! The only thing you can't do is sell them or use them for any marketing purposes.
I'm not getting married in Miami, but would love to hire you! Can I do that?
Yes please! I highly encourage you to email me if you're having an out-of-town wedding. Some travel fees may apply, but I also offer some sweet deals and waive the travel fee to certain locations.
Do we have to meet in person to take care of paperwork, payment, etc?
Nope. We can do everything through the internet by emailing and skyping each other. Isn't technology grand?
If you have any other questions, please don't hesitate to send me a line!